OVERVIEW
AstroNav is a wayfinding kiosk, built during a hackathon and carried on to other events.
Winner: Best UX - PennApps Hackathon Feb 2017
Role: UX designer
Skills: Product definition, Photoshop, Illustrator, Processing, Raspberry Pi
PROBLEM
Navigating crowded conferences and events can be very difficult. And keeping an up-to-date map is even more challenging.
RESEARCH
We talked with hackathon and event organizers about the timeline for set up and event layout. We tested Astronav at the PennApps Hackathon in the spring of 2017. We also installed three Astronav kiosks at the Philadelphia Tech Week signature event in May 2017.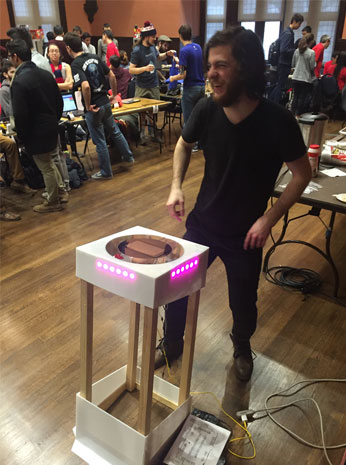 PRODUCT SOLUTION
Astronav is an easily deployable wayfinding kiosk for public spaces, events, and hackathons.
DEMO